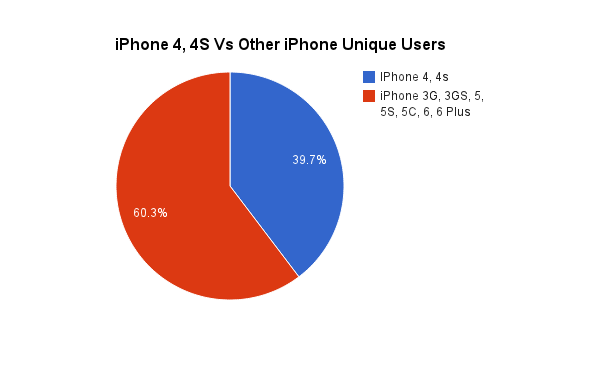 The global revenue from smartphone is expected to increase to more than 272 billion by 2015. There are more number of iPhone user than Android or any other mobile phones with Apple iPhone users downloading nearly 48 apps per month.
89% of smartphones user use their smartphone the entire day with highest age group of 25-34 using at a rate of 62%, out of 1.08 billion smartphone user globally, and nearly 91.4 million of them are from the US alone.
Why there is such a fantasy for iPhones?
User need something easy to use and get help with, you don't need to be a thinker to get most out of the box, but what makes iPhone unique is, it has the highest ratio of functionality and as the survey done by Businessweek – iPhone user partially has affinity for their handsets and the consistency of Apple's customer service is unparalleled, that reflect the best part of an iPhone.
I always wondered whenever I read a blog, where people shared their views of still using 4,4S – even after the launch of iPhone 6, 6 Plus?
I was very curious and bent upon to find the data as to why even after the entry of new devices like iPhone 6 & 6+, with a mix OS on iPhone like 6, 7 and now the latest 8.1 hitting the arcade, still the old device like iPhone 4 & 4S rule among the users. Some of my findings helped me to get a fair idea of its popularity.
With the help of the flurry statistics I was able to get a good data which I would like to share here – out of 730,898 Unique Users – All iPhone devices, we have recorded 289,953 Unique Users using iPhone 4 & 4s, is 39.67% , a good number which cannot be ignored.
What may be the reasons for this?
Apple even after 3 years of old iPhone 4S are still able to provide software updates, which shows that there is a good demand of 4, 4S.
The iPhone 4, 4S still plays a critical role in various markets apart from major ones like USA and Western Europe, which are usually in front of the media.
iPhone 4, 4S is a perfect device for anyone looking to get into the Apple ecosystem for minimal cost, as they do indeed make a great 'iOS starter device.
It is device which is very compact to use even though there are many features in 6, 6+.
As rightly said by Steve Jobs, this is the most successful product launch in Apple's history.
Wrapping up, when coming to a total package from fit to finish both in terms of hardware & software, the cream of cake is always the best.