From past couple of years, I have noticed that a lot of things have been changed. There are enormous technological things that were hard to imagine in 2013 for all of us, but now all those things are normal. These days, all those innovative things become inherent parts of our daily lives and have affected our lives considerably.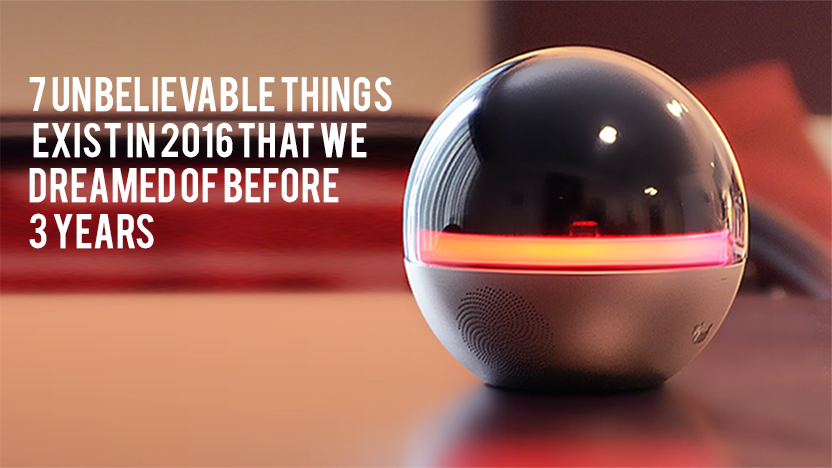 From purchasing groceries things to stay fit to clicking pictures. It becomes much easier for all of us as these technological things has revolutionized our daily lifestyle, enabling us to live quality and comfortable life.
Let's have an instant look at the 7 most exciting and wonderful things exist in 2016 that we dreamed of in 2013:
Paying Bills Without Using Cards & Cash
Today, mobile wallets are like blessings for lots of people as these are getting huge popularity among the youth in India. Day-by-day, digital payments are moving ahead beyond recharges. Now, they can be used for paying everything from online food delivery to purchasing grocery items or booking a new home.
Fitness Tracking Watch
In the recent times, the smart watches have gained the huge attention of people as these watches can perform anything its developers ruling.
This smart watch can be easily connected to your smartphone and shows mobile notifications, displaying anything from text messages to social notifications and a lot more. These watches even allow owners to make calls and reply to messages using only their voice.
Clicking Picture in Which You are also Present
In the year 2013, selfie was just only a word, but it becomes viral within a year. Selfie pictures are clicked by many business leaders to celebrities to other popular worldwide personalities.
For clicking selfie pictures more accurately and perfectly, selfie stick has been introduced that allows people to position their smartphone beyond arms to click better pictures. However, in the upcoming year, selfie drones are also to become the next big thing.
Having an Experienced Without Being Present There
Computer-generated devices are highly fun-loving goggles. Initially, there were named as a gaming device; however, they have offered a lot of practical uses in the short time in the consciousness. For making the virtual experience more wonderful so that you forget the computer, VR headsets have been introduced.
In 2013, I have not imagined that something like that standing on Mars while wearing some intricate goggles. In addition to this, you can also take virtual tours of the places that you have been thinking for a while.
Downloading Videos at a Quick Speed
Over the last couple of years, download speeds become faster and faster, and we all know that the eventual speed nowadays is 4G technology. It not only increases your upload and download speed, but 4G also reduces the buffering time making streaming HD videos. 4G is 5 times faster than 3G services, so we all can imagine how drastic change it will be.
Talking or Chatting With Computers Through Spoken or Written Text
These days, bots are simply amazing artificial intelligence software that can reverse answer to your questions. Many of us have used chatbots at some point but don't know about them. Have you ever used Apple's Siri or Microsoft's Cortana for asking anything?
Unknowingly, you have conversed with a bot. Recently, Facebook has made its own bot news when it has been declared that the companies will ultimately be able to develop and launch their chatbots into Messenger to connect with customers.
In the upcoming years, bots will make people's lives a much easier and comfortable, but a lot of things are there that need to be learned.
Sending Picture Messages That Delete Themselves Automatically
In the year 2013, you may take this idea as ridiculous, but it becomes extremely common these days. Among all the youngsters, Snap Chat becomes highly popular, enabling users to send photo message, which automatically delete themselves shortly after being viewed.
The application is kept itself updating and interesting by adding more features like picture filters, stories, videos, etc. Moreover, the application also keeps engaged users with the platforms discover channel that features content from renowned publishers.