I have been counting on the day and the day has finally arrived bringing the new hopes and happinesses for lots of people including me, my business partners, employees and of course our clients.
We, at Space-O, wanted to revive the look and feel of our old site; and refresh the user experience for our site visitors.
Our primary goal was to better the Usability as well as the Design for our audience. And I must say, our site development team is quite on-target in rendering an aesthetic, intuitive and user-friendly interface.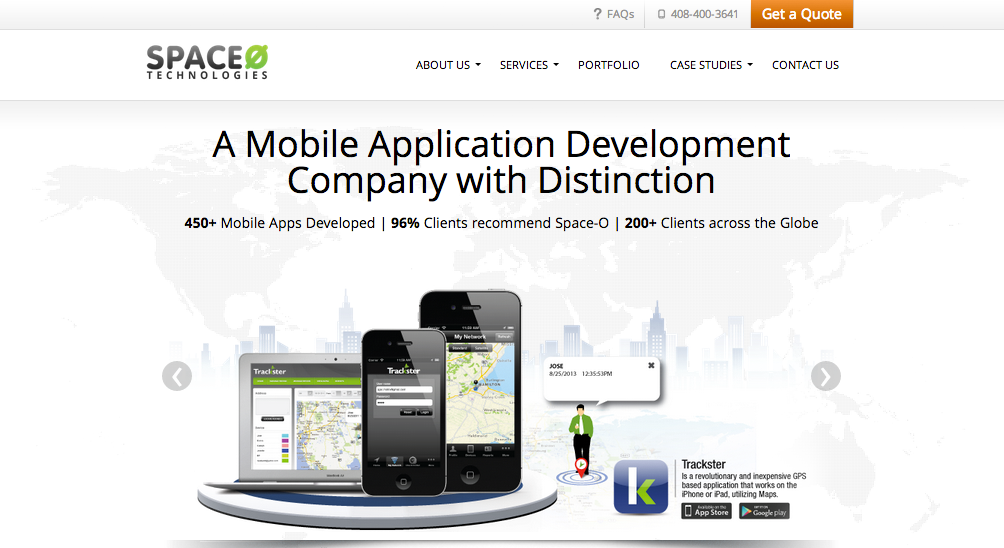 We have not only changed the look and feel of the website, but also made a number of enhancements as below:
Navigation: We aimed to provide easy and instinctive navigation for which we chiefly followed the "Three-Click Rule" of Jeffrey Zeldman. We did not want our website users to take too much hassle to find the desired information and therefore we availed such a navigation that takes the user to the desired destination on the site in no more than 3 mouse clicks.
Appearance: The look and feel of the site is the best of what our site visitors have experienced yet.
Responsive Design: For an iPhone Application Development company like ours, it is no brainer NOT to allow our website's smooth viewing on iPhone and other mobile devices. The design is created based on Twitter's boostrap framework, which supports responsive viewing of the site. It is just a beginning. We intend to provide even better mobile user experience in the time to come.
Portfolio: We have showcased our work in a more effective way so that our clients can literary take a peep into our previous work. We have added detailed description of the work we did on respective projects, mentioned the technologies that we've used, unlike merely displaying the title and the project overview that many other organizations do. Our goal was to provide the detailed information about our work and how it adds value in our clients' lives.
Client Reviews and Videos: Any organization would love to get video feedback from their clients especially when they do a pretty good job. We also do. We consider it a kind of reward from our clients. During the course of past few years, our clients have shared their experiences through video recordings of what they feel about Space-O. Our newly revamped website now features Video Feedback from our clients.
Everything we do at Space-O is to make a difference in our clients' lives. Site revamp project was not an exception. Don't get me wrong. Our website still has a long way to go as I believe the current version is just 20% of what I envision to achieve in the months to come.
Have a look at Space-O's website and stay tuned to see it getting nourished the same way we would like to nourish our clients' projects.